The Isle of Skye is one of those places that once you visit, you are sure is surrounded by magic. The whole region is just one big center of a feeling of mystical menagerie. This is why so many people end up wanting to take a piece of the magical place with them once they go, as a reminder. What better item represents the Isle of Skye than one of their special crafts, which you can get with special discounts?
There are plenty of these amazing crafted items to choose from as well, which should make your choices varied. What's more, each and every piece has a special meaning related to the island.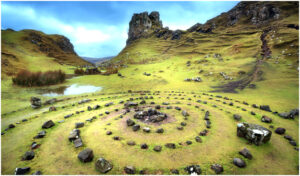 Beautiful Isle of Skye Crafts
As a premier tourist destination for those who are interested in places that represent the more mystical parts of the world, it was only natural that visitors would want physical reminders of their time spent at the Isle of Skye. There are the normal things like key chains and shirts, of course, but those come off as rather impersonal. Instead, it's better to simply go with the beautifully crafted jewellery or pottery items.
Amazing Jewellery
If we're talking about jewellery, the Love from Skye collection is definitely the premier set that you want to take a look at. Not just a simple collection with a theme, each and every piece is crafted and designed with very specific meanings in mind. The results are exquisite rings, necklaces, and other items with precious stones and intricate engravings.
One of the most popular pieces available would have to be the Celtic stag necklet, though, the Cuillin ridge ring also has a lot of admirers. There are quite a bit more of these amazing pieces to be found as well, and they range from the super simple to the super complex. Whichever one you choose, you'll be sure to find that all of them will remind you of your wonderful experience at the Isle of Skye. There are other providers of excellent jewellery sets as well.
Pottery is one of those activities that will either produce excellent items or terrible ones, there is no compromise. Through Uig pottery and several other makers that supply the amazing pots and other clay items at the Isle of Skye, you'll see what excellent pottery looks like. Every cup, bowl, mug, or Quaich is made with care and expertise. It makes a lot of sense for visitors to get these items as well since they represent the region quite well.
There are also some excellent figurines available that depict some of the native animals in Scotland as well as some unique designs. Bringing one back home is definitely a good way to remind yourself of how wonderful your visit to the island was.
You can get more hand-crafted items when you visit the Isle of Skye as well, including bags and some paintings. These can come cheap if you make use of offers & ooupons to slash the prices of each item. So go ahead and check out which crafts suit your needs and bring a piece of this magical place back home with you.